Today I made my first car payment on "New" Buddy. It's actually been a bit more than a month since my Mercedes-Benz E63 AMG joined the family and I've been wanting to at least provide an update on how life with a rocket ship has been going. So a few facts:
6.2L V8 – 507 hp, 465 ft-lb torque
0-60 mph – 4.2 seconds
Quarter mile – 12.6 seconds, 115 mph
4057 pounds
155 mph top speed (limited)
60-0 stopping – 115 feet
Clearly it's been a blast to drive. And while Ken thinks it's a bit sluggish, heavier and slower than his M3 (the stats say it's almost a dead heat) – we're all quite fortunate to have the opportunity to have these kinds of cars in our garage. So what's there to say after my first monthiversary?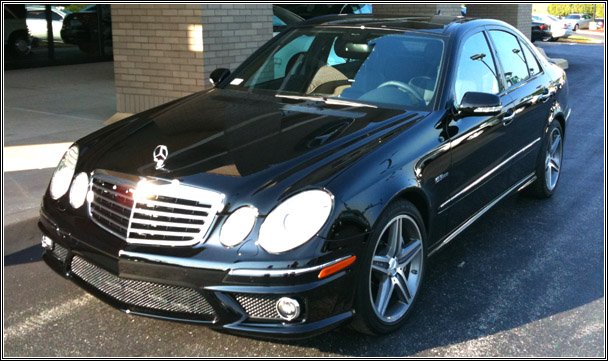 It really does take some getting used to the gas mileage! Right now I'm getting about 13 MPG after 500 miles in and I've been quite heavy on the throttle. EPA lists 12/18 and it's probably going to be worse than that. However, I knew this was to be had when looking at such a monster. I suppose this is what it's like for those truck drivers out there? And really – you don't buy a car like this for hypermiling…
The engine, exhaust, and acceleration make me smile every time. Just starting it up, having it rev to 2,000 RPM before settling down to idle sounds glorious. Then driving around in 3rd & 4th gear allows for instantaneous throttle response at any speed. I'm quite sure there's a direct correlation to my gas mileage in there… To the point – when my wife dropped me off at the airport last week I was able to hear her leave the parking stall… From inside the double set of doors.
Speed. Now really – this is a no-brainer and to be expected. But it's still a little surprising. On the highway you'll hit over 100 mph before you know it – simply effortless. And that's still in 4th or 5th gear. There's 7 in all. If you're playing in and out of traffic at speed or passing somebody the speed just builds until you know you're going to be in trouble. Clearly this is why Mercedes-Benz puts a digital readout in the center along with the analog readout. It should just read "too fast – and you know it!"
Now the flip side of the above… You really can't drive it like the E63 needs to be driven. At least legally and safely on the roads. I think eventually I'll need to outgrow the throttle addiction (highly unlikely) or find more legal outlets (does anybody track-day an E63?)
Keeping black-on-black clean. Say no more. This needs to be a priority or I'll surely feel the wrath of other Mercedes-Benz owners…
The interior is absolutely wonderful. The seats are comfortable, along with the active ventilation and heating (no – they don't cool like the M5 does… But it's noticeable). The quality of material (including the alcantara seat inserts and headliner) are the best I've had so far. The panoramic all glass roof is awesome. Ambient lighting is nice (and is everywhere – even under the front seats!) but I am a bit partial to my RL's blue lighting rather than the E63's amber. I am, however, still getting used to the electronics. I paid $45 for the USB cable so I could use my thumb drive. Really? I think the Nissan Cube comes with one! In any case, the audio system is really good. It even plays back DVD video, DTS, MP3 via DVD/CD, memory card, USB, iPod… You get the idea. Bluetooth works really well – even imports my contacts (although I think the iPhone's contact format isn't quite right for using address data in the navigation system).
That leads me to the usability of the navigation system. Bleh. Honestly – my 2005 RL's navigation system is easier to use, navigate, and visualize than the E63's revamped hard-drive based system. It is quite usable once you have the address in the system and underway – just getting your destination entered for POI's is simply too time consuming. Time will tell if it gets any better…
So for the most part the E63 has been crazy fun. I have, however, had it into the service department twice now with another appointment on Monday. The first time through simply for the new-car issues… Tiny scratches, paint swirls, updated navigation software. Even an oil change (since the car technically was past a year of manufacture). But a few items seemed troubling. I've had intermittent headlight issues where only one lights up. Both assemblies have now been replaced (since there were some service codes in the computer). However, even after an overnight stay to replace them, it has happened again. The alignment was off so the car pulled to the right. This was confirmed and fixed but just today it's pulling again (or actually it's the first time I've driven on a highway at speed to notice it.) There's still some interior scuff marks on the glove box and a few driver's side window glass scratches that the dealer won't fix. And then after those were last taken care of, the push button starter broke on the gear shifter. That's probably just a bit more than I was expecting during the first 500 miles but I'm hopeful we're close to the finish line on individual problems.
Minus the window glass that the dealer won't fix – the service and sales team have been fantastic. I'm hopeful that will continue… But I'd rather not have to even have to deal with service in the first place!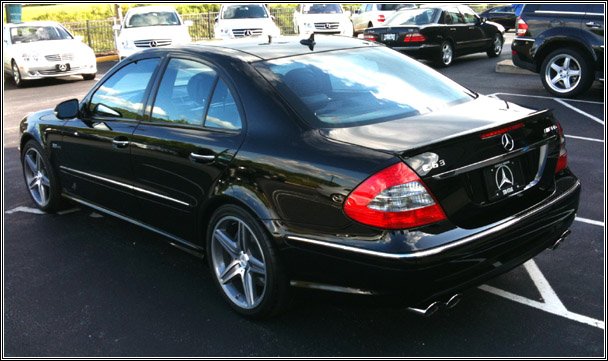 I'm hoping by next month I'll have my car wash ritual nailed down and to have the window tinting done. Perhaps a few better pictures are in store as well! I'm also still hunting around for some Saint Louis MB/AMG car clubs… Not that I really want to hang out like Saturn or Mini owners… But we'll see…
I think I'll go start it up again just for the heck of it…