I received word this afternoon from Avis that they're constantly looking for ways to make renting a more enjoyable and satisfying experience. Sweet! Already I'm able to skip the Chevy HHR and Chrysler PT Cruiser options now that I'm a member of their Avis First program. How much more enjoyable can it be?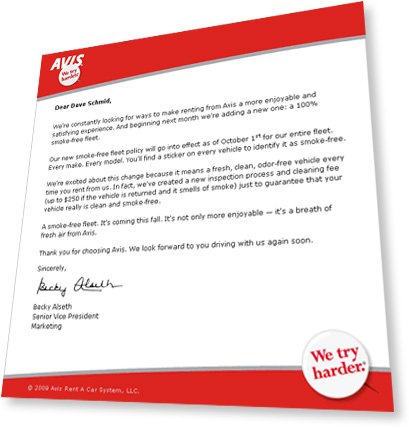 A 100% smoke free car! Does this mean they're getting rid of all of the cars that were smoked in before? Not quite… But it's a start…
We're excited about this change because it means a fresh, clean, odor-free vehicle every time you rent from us. In fact, we've created a new inspection process and cleaning fee (up to $250 if the vehicle is returned and it smells of smoke) just to guarantee that your vehicle really is clean and smoke-free.
Not new car fresh – but hopefully this means they don't have to smell it up with their deodorizers next time around. A nice addition for sure.