I suppose if you're going to do something you didn't mean to do… this would be one way of feeling pretty stupid about it. I'm talking about accidentally purchasing the TomTom iPhone application from the Apple Store while trying to test out application sharing with a friend of mine. Essentially the iTunes Store's Terms of Sale state:
REFUND POLICY

All Sales and rentals (as applicable) are final.
Now I already have a TomTom ONE 130-S that has suited me perfectly for the last year. Small, compact, works great, cheap, includes Text-To-Speech – and if I happen to lose it or were it to get broken – I wouldn't lose much sleep over it. But when my friend purchased the TomTom app I thought it would be interesting to try out after watching a CNET video on application sharing. (Watcher beware – I can barely watch much of Brian Tong… Your mileage may vary…)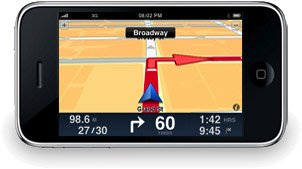 Long story short – while my friend authorized my iTunes with his account, we debated on whose credentials to provide when hitting the download of the TomTom application. My account won out and instead of getting a second copy from his account, ka-ching happened and my credit card was charged $99.99 for this application…
Ahhhh crap I thought after we started debating on what actually just happened. I looked at my previous purchases and sure enough – I bought myself my very own copy. Thankfully there's a button next to each purchase that allows you to submit a request based on each purchase. In my case – I clearly marked:
I inadvertently purchased this application
Since the whole effort of getting refunds from Apple have been laid out in the news in the last few weeks I was pretty sure that I had no chance of getting a refund. I tried to think "maybe this could be useful after all" but it wasn't helping. Even after using it on a recent trip to Minneapolis did I find that it wasn't even worth $10. (This particular entry isn't about the application so I won't go into it here…) So I waited a bit and sure enough, I received a response from Jeff @ Apple. I explained my efforts and intentions and then shortly a second response was received:
Jeff, here from the iTunes Store again. Thank you for clarifying things for me! At this time, and as a one time exception, I have reversed the charge for "TomTom U.S. & Canada," as it appears you were not signed in to the correct account at the time of purchase. Although you may have authorized your computer for your friend's account, you must also be signed into the account originally used to purchase the item in order to redownload at no charge. In three to five business days, a credit of $99.99, plus any applicable sales tax, should be posted to your Visa Card.

Please note that according to the iTunes Store Terms of Sale, all sales are final, so this is an exception which I cannot guarantee will be granted again in the future.
Whoa. I was on track for getting a refund. I quickly replied back to Jeff with this comment:
Thank you very much for your generosity in this one-time exception from Apple and the clarity in process for account management. I sincerely appreciate your effort in managing my request and assisting with my mistake.
And sure enough, a few minutes later, Jeff replied back:
Jeff, here from the iTunes Store. You're more than welcome – my pleasure! Nothing makes us happier than to hear that we have helped our customers. I wish you the best and hope that you will continue to enjoy shopping the iTunes Store in the future. Have a great day, David!

With Warm Regards,

Jeff
iTunes Store Customer Support
So I'm very happy that I was able to get a fantastic Apple customer support person and that Jeff was generous enough to provide a refund. Now while seemingly no real impact for Apple for this refund – word on the street that developers can get taken for a ride doesn't seem so fair… But in any case – I'm glad that the $100 is back in my account.
Thanks, Jeff!