Need your fix of Olympic goodness? Supposedly some 3,500 hours worth are going to be broadcast this year from China and sufficed to say, one person can't really get 250 hours of coverage in a day just to make average. Thankfully technology has come to the rescue in terms of fulfilling Olympic gold for those of us couch potatoes glued to the TV.
Now that I've fulfilled my need for a new HTPC, I'm able to put to good use my Vista Media Center as well. By downloading a cool application from TVTonic, you can down download events and highlights for display right from Media Center. Cool enough is that one of the "channels" available is for HD content. There's no HD samples to view yet – so I'm going to take a guess that it'll be 720 instead of 1080… But it's cool nonetheless. I took a quick spin of the interface this afternoon and I'm pretty impressed. For a free service that's probably tracking my viewing habits (which is okay for right now) – I'm happy enough to keep it connected for the next few weeks. NBC & Lenovo are both feeding the content and sponsoring the effort, which means embedded commercials… But so far I'm able to fast forward through the commercials and get into the shows pretty quickly.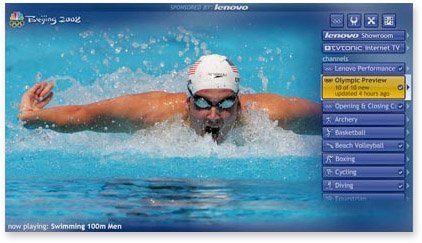 Next up was the summer release of TiVo's service update. Probably not really related but it was waiting for me this morning as well. TiVo has a section that will automatically create season passes based on Olympic events… Pretty nice deal as long as I removed the SD channels from the duplicated HD lineups. Being a fan of TiVo since the early days – I'm really looking forward to making room for all of the HD glory of the Olympics by having both HD tuners stuck on Olympic coverage. With the 500 GB extender add-on, I think they'll be room for some 87 hours of recordings if I let my other shows slide… I know I won't need that much – but it's good to be in 1080 this year around… And that it's on NBC… (Still can't figure out why Charter and KMOV can't play nicely for HD rebroadcast rights….) The whole process does wish that everything was in HD… Knowing that in order to get all of that Olympic goodness into our living rooms next week – they're taking over a few other channels that just happen to only be in SD…
So let the John Williams fanfares begin… 08/08/08 will be here in less than a week!!