As announced yesterday in an exclusive from DSL Reports, Charter Communications will be implementing new usage caps for their broadband bandwidth.
Broadband Reports has learned that Charter will be updating their acceptable use policy (AUP) next week, setting the stage for clear usage caps and potential overage fees. A source familiar with the plans tells us Charter will be imposing a 100GB cap upon any Charter connection of 15Mbps or less, and a 250GB usage cap for broadband tiers "over 15 Mbps up to 25 Mbps."


So I was pretty excited when Charter finally hashed out their differences with the local Saint Louis CBS affiliate for HD broadcast rights. Charter Good.
Usage caps when I'm paying $70 a month for bandwidth in a Saint Louis monopoly… Charter Bad.
This news isn't really news, I suppose. I've talked about this a few times already… So how have I adjusted?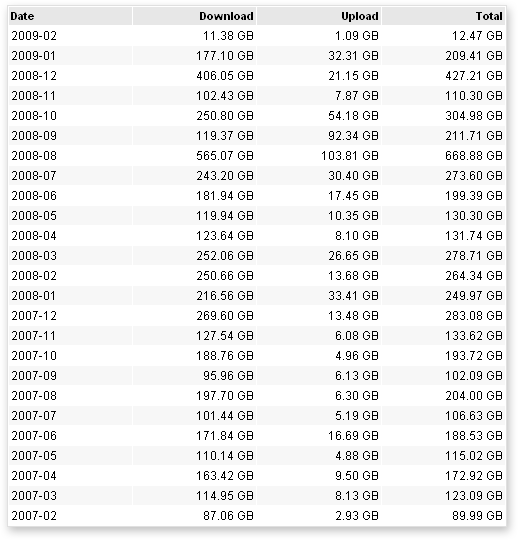 Meh… No really. Considering I have the 16 MB service – I'd fall into the 250 GB cap. At $1 a GB overage charge… That would be over $470 for two of my months where usage was pretty high. (Average over the last 12 months was right at 251 GB…) Maybe that's a better way to measure… A rolling 3 month average perhaps? And what about uploads? Do they count? Better hope that there's some ways to track usage… (Currently there isn't any…)
I suppose this is a way for the $20 Billion debt ridden company to force users to upgrade to a higher cost tier of service or have those fees roll in. Right now the next tier up from 10 MB to 16 MB is only $25 a month… Do you think that Charter will automatically upgrade users to the new service if they go over 25 GB in a month? Perhaps I should charge Charter $1 a month for every GB under 250 GB I don't use? How about banking bandwidth like AT&T does with rollover bandwidth?
Now that I'm a full time telecommuter / work-from-home employee who has to pay for his own broadband (don't get me started) – this just doesn't help.
We'll see how it works out… (Especially considering in a month, "unlimited usage" could equate to 5 TB of download capcity on a 16 Mb/s bandwidth tier…)
BTW – I have had a good time reading the comments on Slashdot… A search on Google will bring you plenty of other fun stories about this issue…