I was presented with an awesome offer that just seemed to good to be true today from an online e-tailer. Seems that there's a new credit card in town…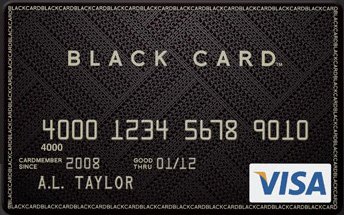 So what is the "Black Card" ? Well…
For those who demand only the best of what life has to offer, the exclusive Visa Black Card is for you. The Black Card is not just another piece of plastic. Made with carbon, it is the ultimate buying tool.

The Black Card is not for everyone. In fact, it is available to only 1% of U.S. residents to ensure the highest caliber of personal service is provided to every Cardmember.
Whoa… It's not for everyone… But heck – I've got good credit… Let's take a closer look… I mean – who wouldn't want such a prestigious card? C'mon… Carbon?? I DO want to get noticed when I'm out dining at Chili's or Chevy's…
Oh yeah… Let's take a look at some of the other "features"…
Limited Membership
24-Hour Concierge Service
Exclusive Rewards Program
Luxury Gifts
Patent Pending Carbon Card
Annual Fee $495
$495?? Annual Fee?? WTF?
No thanks… I'll continue using the cards that I already pay off each month. They probably swipe and charge just as well as a carbon one.