The news has been a buzz on some of the possibilities of Comcast starting to implement bandwidth caps for their cable modem users. Fair enough from the standpoint that many other organizations have reasoned previously. However – for the $30-60 most of us pay for usage doesn't contain provisions for usage – if I want to have something downloading all day long I should be able to. I chuckled to myself and said – hey – no biggie – I'm with Charter and they never make the news…
"Eventually, we will go to a usage-based solution," predicted Marwan Fawaz, CTO of Charter Communications Inc., last month at the CableNEXT conference in Santa Clara.
Bummer. I was really hoping for those new DOC SIS 3.0 speeds to come my way without shelling out the $$$. However, my real concern comes in with the details outlined for Time Warner from my favorite Tech Web site, Ars Technica:
Last week, we learned from a leaked memo that Time Warner Cable is preparing to roll out usage-based broadband service tiers to new customers in Beaumont, TX. The company has since confirmed its plans, with monthly bandwidth caps set at 5GB, 10GB, 20GB, and 40GB. Customers who exceed their cap would be hit with an undetermined per-gigabyte charge, but Bell Canada's overage fees, which range from CAN$1.00 to CAN$7.50 per gigabyte, may give some inkling of where Time Warner's overage fees will end up. Usage caps are a short-sighted response to capacity constraints, one that's likely to hurt the company more than it will help in the long run—especially with new broadband options on the horizon.
So where does that put me?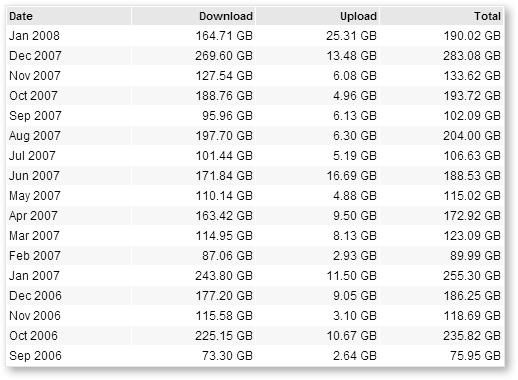 On my most ravish month in December, 2007 – I somehow managed to pull almost 270 GB of data. If my math is right, 100% usage of my 5mb line (for 30 days) would get me close to 1.6 TB – So should I be asking for an 83% refund for bandwidth not used? Or based on the pricing from Canada, would I be charged some $1,750 for overages?
Guess we'll just have to wait and see…
(I will say that I've been much happier with my Charter service since they came out and replaced the entire cable line from the pole to my house last year… Not a single day's outage… Don't give me something new to hate you for…)