As being mentioned a bit more in the news lately… It looks like broadband bandwidth caps are being rolled out for real this time. This tidbit on Comcast looks to start the ball rolling starting October 1st… Charter – you need to look the other way:
Cable Internet provider Comcast said Thursday it will begin limiting how much data subscribers can transfer online each month. The 250-gigabyte monthly cap begins Oct. 1 and is designed to prevent Internet service becoming sluggish from heavy use.

First-time offenders of the bandwidth limit will get a call from Comcast, while future overages result in Internet service suspended for a year, reports said. In May, the second-largest Internet service provided talked of a $15 fee for every 10 gigabytes above the limit.

In announcing the limit, Comcast stressed the 250-gigabyte cap is far above the maximum of the majority of subscribers. The new cap would allow each customer to send 50 million emails or download 62,500 songs per month.

Others Internet providers are experimenting with the idea of limiting their users' bandwidth. Cox Communication employs limits ranging from 5 gigabytes to 75 gigabytes while Time Warner Cable is mulling a cap between 5 gigabytes and 40 gigabytes.
Seriously – why am I paying some $80 a month for top 16M speeds if that just means I use up my "fair share" quicker. Since the last time I mentioned caps, I've broken through my all time monthly usage rate…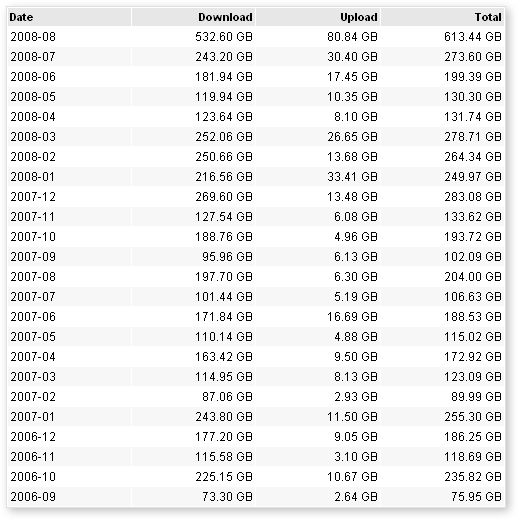 Let's see how much that would cost me… Hmmm… At $15 for every 10 GB over – um… ugh… $545 if you count uploads and downloads… Plus the $80 – for almost $7500 a year? And with no other competitive broadband alternatives… DSL is out because it's capped at 3M. And I mean – Charter's home office is just a few miles down the road… Like I said, Charter… Don't get any crazy ideas from your peers!
So what pushed me over this month, you're probably asking? Thank you TVTonic and your wonderful HiDef downloads for the Olympics.
That's right – quite legal TV coverage of the Olympics…