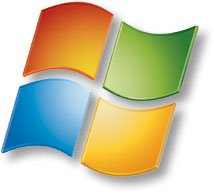 I, like many of you, have started moving into Microsoft Windows Vista territory now that it's been released. I've tried it back when the release candidates were out just to see what was coming up. Sure looks pretty! But there wasn't a lot more that I found personally useful. I was thankful that my MOTU UltraLite had drivers even during the Beta period. Nice work! However, I've slipped back to XP for my daily needs only because of what most people have found – driver and application support just isn't there.
So this mention of Vista isn't about the daily computing needs, it's really about the Media Center aspect and watching HDTV via my XBOX 360 as an extender. For me it was atrocious. I couldn't watch anything. The screen would blank, network would go bonkers and I'd see ehshell.exe at 100% CPU for (what I would consider) no reason at all! I have a pretty decent dedicated system, a P4 w/ 2GB memory and 2 TB of disk space. And besides, MCE 2005 didn't have an issue at all… Played everything smooth as silk. That meant… ** gasp ** it's probably networking!
So Vista changed everything under the covers with how it handles the networking stack. Fine – no big deal. Vista networking in general hadn't been a problem so far. I could copy files back and forth between my desktop and other servers on my network without an issue (mostly – look at the bottom of the page). I was even able to push my gigabit network upwards of 58MB/second (which was pretty sweet in itself…). But there in lies the magic keyword… Gigabit.
After much searching online after including "Vista" and "Media Center" as well as "XBOX 360" I finally discovered what seemed like my solution:
You experience poor video quality or slow performance when you use Windows Media Extender features on a home network that uses a Gigabit Ethernet switch on a Windows Vista-based computer (MS KB929707)
Basically Vista handles A/V network streaming for XBOX 360 over UDP instead of TCP as how XP does it. Doesn't seem to be a big deal, or does it? In my case – it does. I have a 16-port gigabit router that everything in the house is connected to. However, the XBOX is 100 Mbps. So I tried the following:
Method 2: Manually enable flow control in the receive (Rx) direction
1. Click StartStart button, type ncpa.cpl in the Start Search box, and then click ncpa.cpl in the Programs list.

User Account Control permission If you are prompted for an administrator password or confirmation, type the password, or click Continue.

2. Right-click the Gigabit network connection, and then click Properties.

User Account Control permission If you are prompted for an administrator password or confirmation, type the password, or click Continue.

3. On the Networking tab, click Configure.
4. On the Advanced tab, click the flow control property that is in the Property box.
5. In the Value box, click the value that enables flow control in the receive (Rx) direction, and then click OK.

Well – that didn't solve my problem. (However, it was the second option in the KB article – let's try the first one!)
Method 1: Change the link speed to 100 Mbps Full Duplex
Yeah – I didn't want to do that since, hey… I'm on a gig network and I need that speed! But what do you know… It worked. It worked perfectly. I almost cried a tear of joy… But 100 Mbps? I think I'd cry more if I had to go back to that speed! But it did get me thinking… "Hmm… Network related… Flow Control… I wonder…"
So all of my network cards supported Flow Control and they were all set. Let's go look at the router!
I picked up a really nice Dell PowerConnect 2716 router about 6 months ago to replace my (POS) 8-port SMC SMCGS8 Gigabit router that was failing on some ports. Needless to say, I've had zero problems with it and it's been one of the best pieces of computer gear I've purchased (and it's on sale right now for less than $190!!).
Thinking that I had everything setup perfectly, I figured I probably needed to investigate a bit further on this whole flow control thing. Sure enough, opening up in the admin console and checking out the settings… What do I see? Flow Control set to Disabled. (Click image for full size…)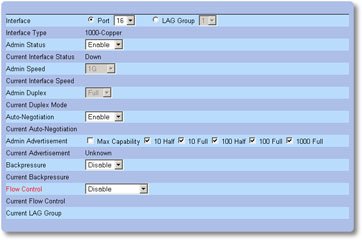 So with a quick switch to Auto-negotiation and flipping back my hard set 100 Mbps on the network card to Auto-negotiate (to get my lovely speed back in place… You can't hard set gigabit connections…)

I was enjoying HDTV via Vista & my XBOX 360 without a hiccup. Since this discovery happened around midnight, I think I probably Rocky Balboa'd my hands in the air before heading upstairs and going to bed.
Mission Accomplished.
Now if somebody could just help out with my Vista to Vista odd network behavior! (I hoped that some of these fixes might help – but they didn't… And yes – I know that it's a different symptom all together!)