I used to swim when I was younger… Younger as in grade school & junior high. Lots of really early mornings to swim before school. Then weekends spent going to swim meets all over the region. I have a few medals and ribbons and what-nots. Even some nice heat-winning Coke and Pepsi cans… So you can obviously expect I've been really excited that the Olympics are finally here and so much attention being paid to the men and women's swimming events. (Although I'm traveling this week so I'm really missing out on all that HD coverage!!)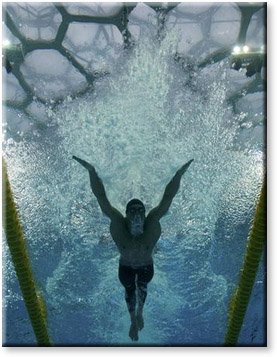 So with the fantastic 4×100 freestyle relay Gold-place finish of the US Men's team on Sunday night – I thought it would be a fun effort to see just how fast I was compared to the world record time that Jason Lezak laid down on the last leg of that race (I know, I know – it doesn't count as a world record since he didn't have the first leg… but it is "still" the fastest!)
Jason swam his 4th leg in 46.06 seconds. That's 100 meters. Of course, my swimming efforts at the Lodge are in yards. The pool is a bit larger than a wading pool… (It's also a cool wave pool… ) That makes one trip down the lane at 25 yards. How slow do I float down those lanes? A lap for me down and back is 40 seconds (the first time… it's slower after each lap!) The makes it roughly 42.12 seconds for 100 yards – for grins cut that in half for 21.06 seconds for 50 yards… In which I swim in 40 seconds… My 100 meter swim would be about 87.49 seconds… or close to 53% slower.
So while I'm barely keeping myself from falling 9 feet to the bottom of the pool – Jason would already be back at the shallow end of the lap. Wow – that's fast! (And yes – I'm slow… – But I will try and find some of my old times from many years ago and have some fun at my own expense.)
Congrats in any case to the US Olympic swimming teams! And yes – I listed Phelps (because of the picture) even though it's more about Lezak's time… Either case – they're BOTH super fast!