I love hot dogs. I've tried them all. Well – almost all of them. Honestly – probably not a lot of them. But I know what I like and you can forget about "franks". Turkey, pork and chicken? That's not what a hot dog make. I've pretty much settled on Oscar Mayer's Beef dogs for the most part. But that's the the root of this story. (By the way… Wrangler's beef hot dogs are probably my favorite… But I LOVED Frank n' Stuff hot dogs as well… it's just that I can't find them any more! You know the ones with processed chili actually in the middle of the hot dog! Hmmmm.) But I digress.
This is what I'm talking about: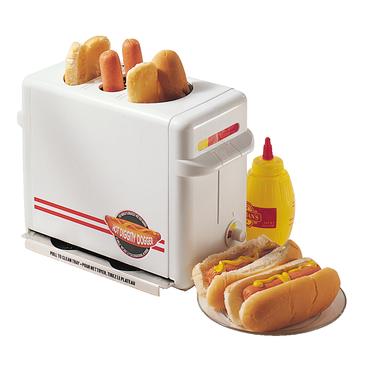 The Hot Diggity Dogger. Mmmmmmm (Say it with me… Mmmmmmmm). I first saw this wonderful, most useful invention like most people did… In the airline shopping catalog that you thumb through while waiting to take off. Hammacher Schlemmer offered it first – but you can find them in a few other places… (Don't mistake this with the Wal-Mart knock offs…)
I was young enough at the time that I had to have my mom order it… Whew… That was a long time again! But I bugged her and bugged her. And with a rattling of her credit card number and $50 out of my allowance, it was ordered! Days… then weeks… Then Mr. UPS arrived (back then I thought UPS only delivered at Christmas…) and I was truly in business. Opening up the box and tossing out the styrofoam peanuts, I knew next what had to be done…
With two hot dogs and two buns I ended having the best hot dogs ever. Now granted – it's really a glorified bread toaster – but they always came out just right. Far better than nuking them in the microwave (though not quite a good as grilling them outside…).
Unfortunately – as a matter of faith in my finance – I left that poor dogger for dead when I moved into our new house. Something about her kitchen gadget phobia I was able to break her of. Well… thanks for the memories my fabled friend. May others enjoy your delicious delicatessen as I once knew you for.
(Some details have been slightly modified and enhanced for no apparent reason. I mean – c'mon… It's a hot dog!)