I'm almost a week into my new job with HP and it's been going pretty good so far. Mostly getting organized, filling out paperwork, getting my training scheduled and underway… You know – the normal points of a new hire. (I will say, I've been overly impressed with how easy everything has gone including a working laptop and VPN on my first day of employment…)
One of the other items I've been wrapping up this week if figuring out my home office needs. Since I'm essentially a telecommuter in the full time sense, having an efficient and organized home office was needed. I was already "sharing" one of our bedrooms as a project music studio – slash – wrapping station – but with being now being stationed at home, the bedroom is now officially an office.
Scouring the Web for some insight into SOHO requirements, I've now settled into essentially modular furniture. It's sturdy, easy to assemble, can be shipped and brought upstairs easily, and is actually pretty cost effective. Granted – I've dreamed of having a large bookcase-lined office made of mahogany with an executive desk right in the middle. The thought of engineered fiberboard with laminate tops doesn't necessarily scream HGTV style, but I'm okay with being practical for now. Actually – I'm pretty excited since my new furniture from Office Depot is arriving tomorrow!
Now even though I ended up ordering my furniture from Office Depot, Staples actually has a very cool Web site called Master Plan Office Simulator that lets you "design" your furniture layouts with a simple CAD type flash application. After putting in my room dimensions, windows & doors – I just moved some furniture pieces around and came up with these pretty cool designs: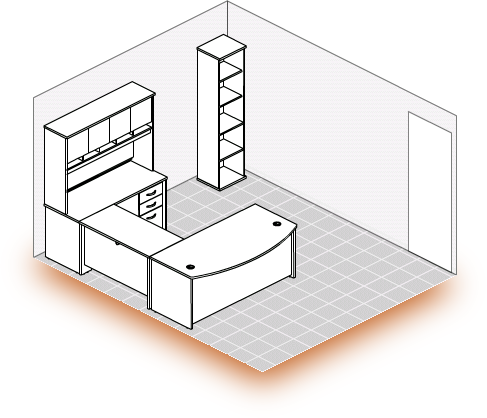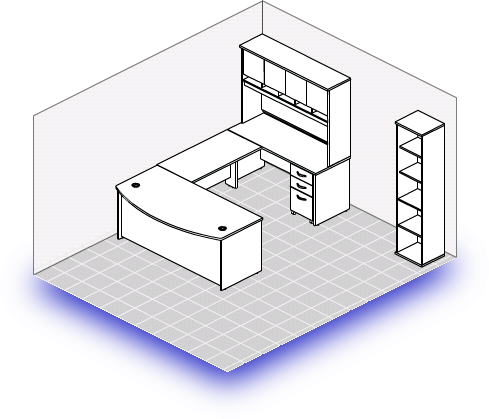 I know it's only furniture – but I've been in an 8×6 foot cubical for the last 9 years. It was time to spread out a little bit with some extra storage and desk space. It should make for an extended assembly weekend for sure. I'll get some real pictures up after everything is put together… What was on my list?
361821 – Bush Components Bow-Front Desk Shell
WC24461 – Bush Components 60″ Credenza
WC24424 – Bush Components Return Bridge
WC24462 – Bush Components 60″ Hutch
WC24412 – Bush Components Open Single Bookcase
WC24453 – Bush Components 3-Drawer Pedestal
456040 – Bush Universal Utility Drawer
362451 – Bush Universal Keyboard Shelf
883108 – Bush Light Pack
You can peruse the Bush Web site for little thumbnails… Fun little guys huh?