I'm actually a few days behind on watching the new season of American Idol, but because I've been a TiVo junkie for longer than I can remember – I had the privilege and honor of blooka blooking through the ramblings of the first 4 hours in about 30 minutes. Now those of you that know me, know that I'm an Idol fanatic. Not so much of the first parts of the season… I'd rather see when the contestants get to Hollywood and the show really starts. However, I snagged a brilliant moment on the second day of Seattle when a terrible, terrible contestant named "Red" wanted Simon Cowell to offer him singing lessons… It went a little something like this: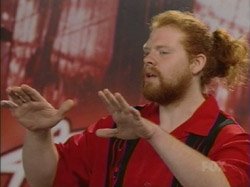 Red: If you think you're so ******* damn hot, step up and coach me!
Simon: I wouldn't. It would be like coaching a one-legged man to win the 100 meter sprint. I mean, I may be a great coach but if you haven't got it, you haven't got it.
Red: Don't sing about it, be about it. Don't sing it, bring it. A'right?
Simon: I'm not being rude…
While I almost agree with the fun loving dribble of what drops out of Simon's mouth from a musical background (yes – 99.9% of the people on that show CAN'T sing!!!) – that line about the one-legged man just made me chuckle. It sums up everything about the pissed off contestants on that show that say they've all got talent and Idol has it all wrong… Amazing… Denial. Sad, sad confused people.
I'm still chuckling…