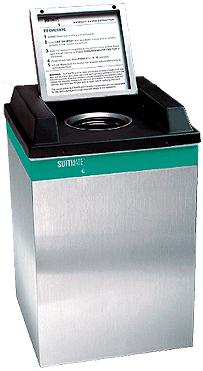 Surprisingly – I've actually kept up with my morning swimming routine since mid-March of this year. Two, sometimes three times a week I find some way to get myself out of bed at 6am and drive myself to the local natatorium for a good 30 minute swim. Back in my "smaller" sized days – I used to actually swim competitively and I'm clearly a long ways away from getting all of my old strokes and times back in order.
One of the coolest things that I've seen since being back in the swim practice is a device called a "SuitMate". Essentially this is a "swimsuit water extractor" that removes up to 95% of a suit's water in just 10 seconds. Think of it as a (somewhat) noisy spin cycle for your swimsuit. Yeah – I wish they had those back in the day… a perfectly ingenious invention. (And only $1400 if you want to order one on their Web site!)
So after washing off the chlorine from the pool and walking up to our "SuitMate" – there happened to be somebody already using it. No big deal – its only a few seconds to finish up each cycle… However – since I've been swimming for about 6 months now – I pretty much know who all of the guys are that are swimming. (I'll probably post some interesting observations on that social club interaction at a later date…)
But I didn't recognize this guy…
I was like, "oh no…."
And sure enough – what does he pull out of the "swimsuit water extractor"? You guessed it – his now 95% dry underwear. (The pool is part of a larger community center with workout areas, indoor running tracks, etc.)
Gulp.
It still makes me feel a little queasy on that one. It's not "UnderwearMate" I stood there for a few moments in disbelief and then tossed my own swimming suit in to shake off the water. Maybe the left over chlorine will protect it like bleach or something… Better just to get it into the laundry.