C'mon now… Was I the only one distracted by the American flag in this picture?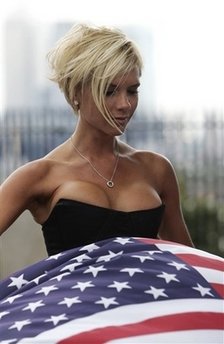 Yeah… While this made news a few days ago, I just had to post a picture of this somehow. As you should already know:
The Spice Girls announced Thursday that they have agreed to reunite for 11 concerts around the world in December and January.

They will be the group's first concerts since it broke up in 2001, and the first with all five original members since Geri "Ginger Spice" Halliwell quit to pursue a solo career in 1998.

The group said shows would be in Los Angeles on Dec. 7, Las Vegas on Dec. 8 , New York on Dec. 11, London on Dec. 15, Cologne on Dec. 20, Madrid on Dec. 23, Beijing on Jan. 10, Hong Kong on Jan. 12, Sydney on Jan. 17, Cape Town on Jan. 20 and Buenos Aires on Jan. 24.

Halliwell, 34, appeared with Victoria "Posh Spice" Beckham, 33, Melanie "Sporty Spice" Chisholm, 33, Emma "Baby Spice" Bunton, 31, and Melanie "Scary Spice" Brown, 32, to pose for photos and announce tour plans.

"We wanted to say thank you to our fans. It just feels very right for us," Chisholm said.
Granted, I actually purchased the Spice album (I think I picked it up during my BMG music club days…) and enjoyed a few tracks (like Say You'll Be There and maybe 2 Become 1). Heck, when I was in England many years ago they were playing Geri Halliwell's "Lift Me Up" so many times on the radio even I bought the single! But aren't they just a bunch of average ladies with average voices? I guess some of them made out pretty well… (Sorry Baby Spice – you didn't make that list…)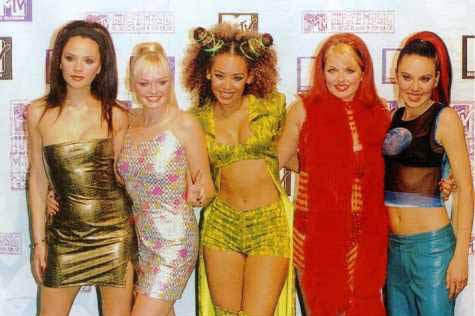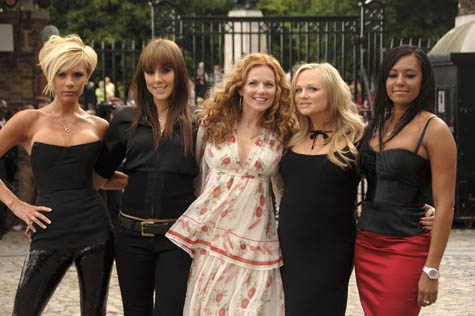 Perhaps just more American flag pictures…
(Quick update… Since the first picture was from Yahoo – I now see that there's also a slide show… Whoa. Hello flags…)