Only in the new age of spin politics would we even come close to seeing a "superhero" action figure just a few weeks after the Republican VP accouncement of Palin (just look at those legs!).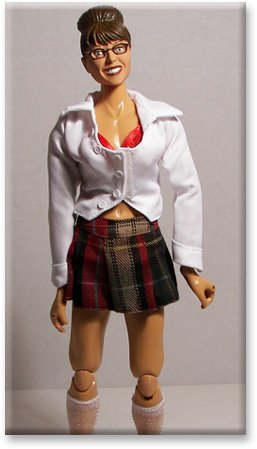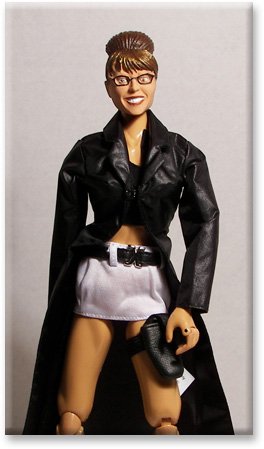 The Sarah Palin Action Figure courtesy of Herobuilders.com
I wonder if they could make a Palin doll that you could pull a string in the back for really thoughtful one liners… But what would she say?
Amid growing sniping from Democrats, the McCain campaign announced that Palin would sit down for her first interview this week, with ABC. It will take place over two days at her home in Alaska.

And then?

McCain campaign manager Rick Davis has said Palin will "agree to an interview when we think it's time and when she feels comfortable doing it."

…

But none of the candidates in this race has been so shielded from the media, so protected from any spontaneous situation, and Palin's unvarying remarks give the impression that she and her message are being tightly controlled. As before her convention speech, McCain's campaign is briefing Palin for her first TV interview.

…

She voiced support for the bridge during her gubernatorial campaign, and the project was only called off after it had become an embarrassment to the state.

Another crowd favorite in her speech is that story about how she got rid of luxuries in the state Capitol, like a personal driver, chef and luxury jet.

"I put it on eBay," she says.

Audiences love this part, but what Palin never adds is that the jet didn't sell on eBay despite numerous attempts. The state eventually hired an aircraft broker to unload it.
Ummm… At least they have a George W. Bush talking doll. I bought one as a loving Christmas gift for our family Republican… I wonder if he still has it… Oh I'm sure George comes out to settle disputes when the boys are drinking and shooting off their shotguns…