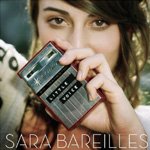 While quite popular after her free Apple iTunes debut many months ago, I'm a bit late in stumbling upon Sara Bareilles' latest tune entitled "Love Song". I'm pretty much at a loss as to how she came across my surfing travels – but nonetheless, this tune has been stuck in my head ever since.
Be sure to check out the usual places – Wikipedia, her own Web site, or even MySpace if you need even more material.
I'm a casual listener of Maroon 5, which she actually has some history with – hanging around in the same circles while working on their music degrees at UCLA. But there's just a really natural, soulful sound to Sara's voice, similar to another favorite singer of mine, Norah Jones. (I might put Vanessa Carlson in there as well, but her music is becoming more hit and miss to me lately…)
For the important part, the song sample…
Love Song – Sara Bareilles – (Song Sample)
While I was visiting Sara's Web site for more info, music clips and what not, I found the video to this song being actually quite good in it's story telling as well. Feel free to play a bit of it on YouTube (the embedded video is disabled for some reason…) Not the best quality for sure – but you get the idea.
Of course while there's plenty for the ears to enjoy, you can't help but not enjoy Sara's visual appeal as well…