So my make believe girlfriend from American Idol has a new album out so she's been making the media rounds lately. Saturday Night Live, this season's American Idol, Good Morning America… along with magazines and radio visits. I've been listening to all the different versions of "My Life Would Suck Without You" and it's getting close to an Earworm entry… But that's almost a given… And you can't turn on the radio without hearing it anyway.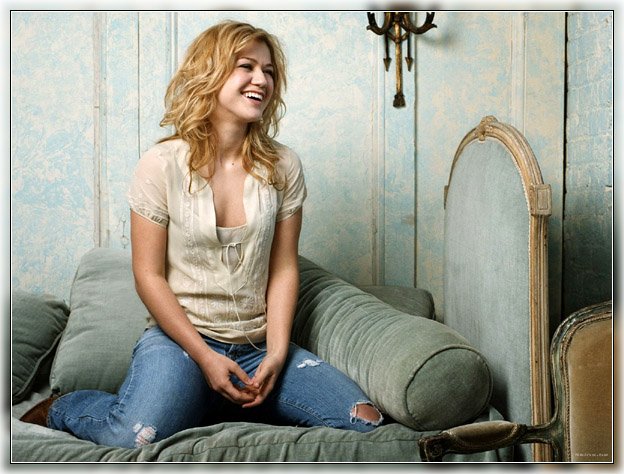 But my attention turns not to her new single… Although I'm quite happy enough that she's back in the spotlight after a rather disappointing "My December" release. It turns to a recent article from BANG Showbiz courtesy of AskMen.com:
The 'My Life Would Suck Without You' singer is on the hunt for a boyfriend because she "badly" wants to fall in love for the first time.

She said: "I've never been in love. I want to be so badly – I'm a hopeless romantic, but I haven't been there yet. I'd prefer to wait for the right one than settle for second best."

The 26-year-old beauty – who won the first series of hit TV talent show 'American Idol' – has found it hard to trust men since an ex-boyfriend treated her badly.

She said: "I don't think I'd fall in love easily – I had a boyfriend, who I discovered was only with me because he wanted to be famous. Oh, and he had a girlfriend the entire time we were together. I can spot a cheat a mile off these days. I was hurt but karma's a b***h and I'm sure he'll reap what he sowed."

Although she is looking for a man, Kelly won't settle for anybody and says any prospective boyfriend would need to have some very specific attributes.

She explained to Britain's Cosmopolitan magazine: "A good sense of humour is essential. And I like a man with facial hair! He also need to be independent – it's so easy to lose yourself when you're in a relationship, so I like a man who already has a strong sense of what he wants out of life. I love my career and being independent, so if I'm going to make time for a man, he has to be worth it."
I'm tossing my hat in the ring (much to the dismay of most of my friends… and my wife! LOL). Not sure about the facial hair… But I'll do whatever it takes to please this pop singer goddess! I'm sooooo worth it!