A few days ago I received a promotional e-mail from Zillow.com, an online real estate database, that had listings titled "No Turkeys Here! See Celebrity Kitchens". I usually just delete e-mails from Zillow.com because it saddens me to know how much value my own home has lost according to their "Zestimates". But since the preview had already started to download I was interested to see that it listed Lady Gaga and Kelly Clarkson on the top of the page.
Celebrities entertain us, but how adept are they at whipping up a Thanksgiving dinner? Since we're in the throes of holiday madness, here are some celebrity kitchens for inspiration. Plus, they're all for sale!
Lady Gaga I could mostly care less about… But oh yeah… Kelly Clarkson has been my imaginary girlfriend since I first saw her on American Idol!! Here was a chance to own Kelly's own house!! Now Kelly has only lived in it for the last three years but wouldn't that be a nice piece of Kelly Clarkson memorabilia? (And, yes… It does sound a little creepy!!)
At a little less than 5,000 square feet and around 3/4 acre lot, I'm thinking the size is okay… But perhaps the $1.49 million price tag might be a bit much for me to swing as a second home. And I'd have to figure out a way to want to live in Nashville, Tennessee.
One of a kind stone home in Belle Meade! Awesome screen porch w/ FP. 2 Bedrooms on Main Level, including Master, Updated Kitchen & Master Bath. This home has it all! 5 BR/5BA, Rec Rm, Den, Study, Office, 3 FP, 3 car Garage, Irrigation & new Landscaping.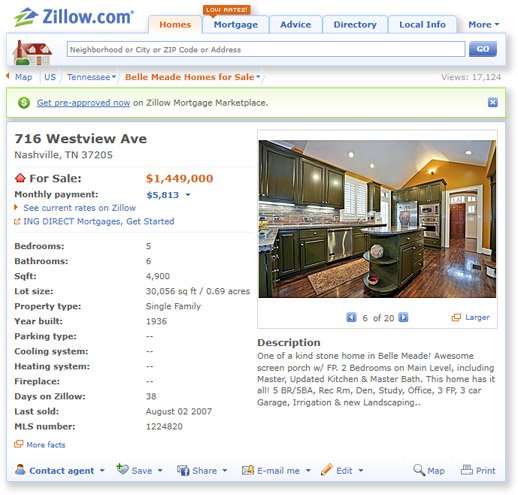 Personally I was impressed with the pictures of her house, inside and outside. I'm a fan of red front doors and all stone exteriors. Colored walls, white trimmed woodwork, and wooden floors mimic a lot of what I already have in my own house today. Personally I was hoping to see some recording studio tucked away in the basement but didn't see anything like that in the listing. Maybe if Kelly would just autograph one of the walls, I could live with that…
So – does anybody want to help start a "Buy Kelly Clarkson's House Fund" with me? Maybe Kelly could offer up an imaginary boyfriend discount? Or if she met me, perhaps she'd want to stay… get to know me, make it permanent? LOL!