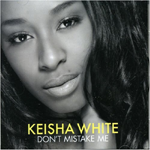 Next in the line of Pop songs unable to escape my needless playing is from Keisha White. Titled, "Don't Mistake Me" – this tune enjoyably mixes the latest female pop classics parts with some classic (well, at least to me) Motown elements. I haven't been able to find much information about this song so I'm guessing either I'm quite late in finding it, it slipped by mainstream Top 40, or I'm early on the music bandwagon. Be sure to have a listen:
Keisha White – Don't Mistake Me – (Song Sample)
For more info, check out Amazon.com or her Web site.