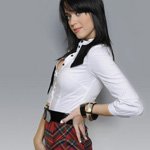 To be perfectly fair – I'm not a fan of Katy Perry. I first paid a little bit of attention only after I saw the Saturday Night Live Spoof of Katy's "I Kissed A Girl". While really not funny – at least I got the jist of what was going on. What saddened me after that was her appearance on YouTube Live '08. Honestly – you talk about an artist not being able to sing. Ugh.
However – Katy's song Hot N Cold is mesmerizing… Especially when you're able to get past her single version and into some of the remixes. She's definitely good looking – and in pop music – it's more sizzle than substance! Written by Dr. Luke & Max Martin… It's no wonder that the song worked out well… Especially knowing that Britney Spears, Kelly Clarkson, Pink, Backstreet Boys, and others have enjoyed success with their songs. Katy is listed on the track as well… Probably only in that she touched the sheet music for naming rights…
This specific mix by Almighty adds just enough to make it more interesting.
Hot N Cold (Almighty Anthem Dub) – Katy Perry – (Song Sample)
I might be warming up a bit… I'll give it some more time…