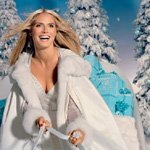 After stumbling onto this Christmas gem after watching "Best Week Ever" – I had to track it down and watch it for myself. Usually…
Supermodel + Pop Christmas Music = Disaster
Well, at least that was the conclusion that most of the Internet and television shows are portraying it as… While I wouldn't call it the worst song ever (the vocals do leave some to desire) – this tune as been stuck in my head for the last week!!! So in my Christmas good cheer – I'm now going to share it with you as well!
Wonderland – Heidi Klum – (Song Sample)
And as an added bonus – the video for your viewing pleasure!
httpv://www.youtube.com/watch?v=uq4IAw85sOM
"Wonderland, wonderland, shining stars, jingle bells."
You have to love those types of lyrics. Especially when the singing children start helping Heidi finish the song. I also found this fantastic blurb from AV Club that sums it up quite well…
This song and video are the aural and visual equivalent of eating candy canes dipped in maple syrup sprinkled with gumdrops that have somehow been made into a Yule log which is then served on the back of a sleigh driven by the jolliest snowman ever brought to life by the magical love and good wishes of two adorable children.
Diabetes indeed…