So this place called the Heart Attack Grill comes out with some burgers a few months ago that are essential the "Greatest Burger Ever Made" (well – I made that up…). The waitresses dress like nurses (skimpy in that manner – like girls on Halloween!). And now real nurses are complaining about their outfits. You think they'd complain about the burgers!
The waitresses wear skimpy, cleavage-baring outfits, high heels and thigh-high stockings — a male fantasy that some nursing organizations say is an insult to the profession.
Well, the point of this randomness of a post isn't about who's complaining about death, burgers and short nursing outfits, it's about this picture: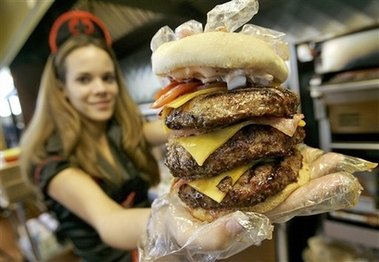 Man… I WANT ONE! Doesn't that look good? OMG – oooohhh yeah… Figures that I'm a burger guy…
"They definitely look at us, but they're guys," Courtney Chapman said. "If our butts are coming out the bottom of our skirts, and our boobs are coming out the top of our shirts, we're kind of asking for it."
Yeah… I guess I could like that too… But it's still about the burger!